Small spaces pose notoriously tricky problems and decorating them can sometimes feel like trying to solve a puzzle. The lack of square footage equates to a lack of storage space, which means things can quickly get a lot more cluttered, and then there's the challenge of showing off your style in an oddly shaped room while still trying to make it a functional area.
You want to fit as much in as possible, but the room mustn't feel cramped. You want it to be filled with personality, but it can't look chaotic and cluttered. But it's possible to have a small space that's as stylish (or perhaps even more so) as their sprawling counterparts. Whether you're starting out in a studio apartment or choosing to live a more minimalist existence, you don't need to sacrifice style.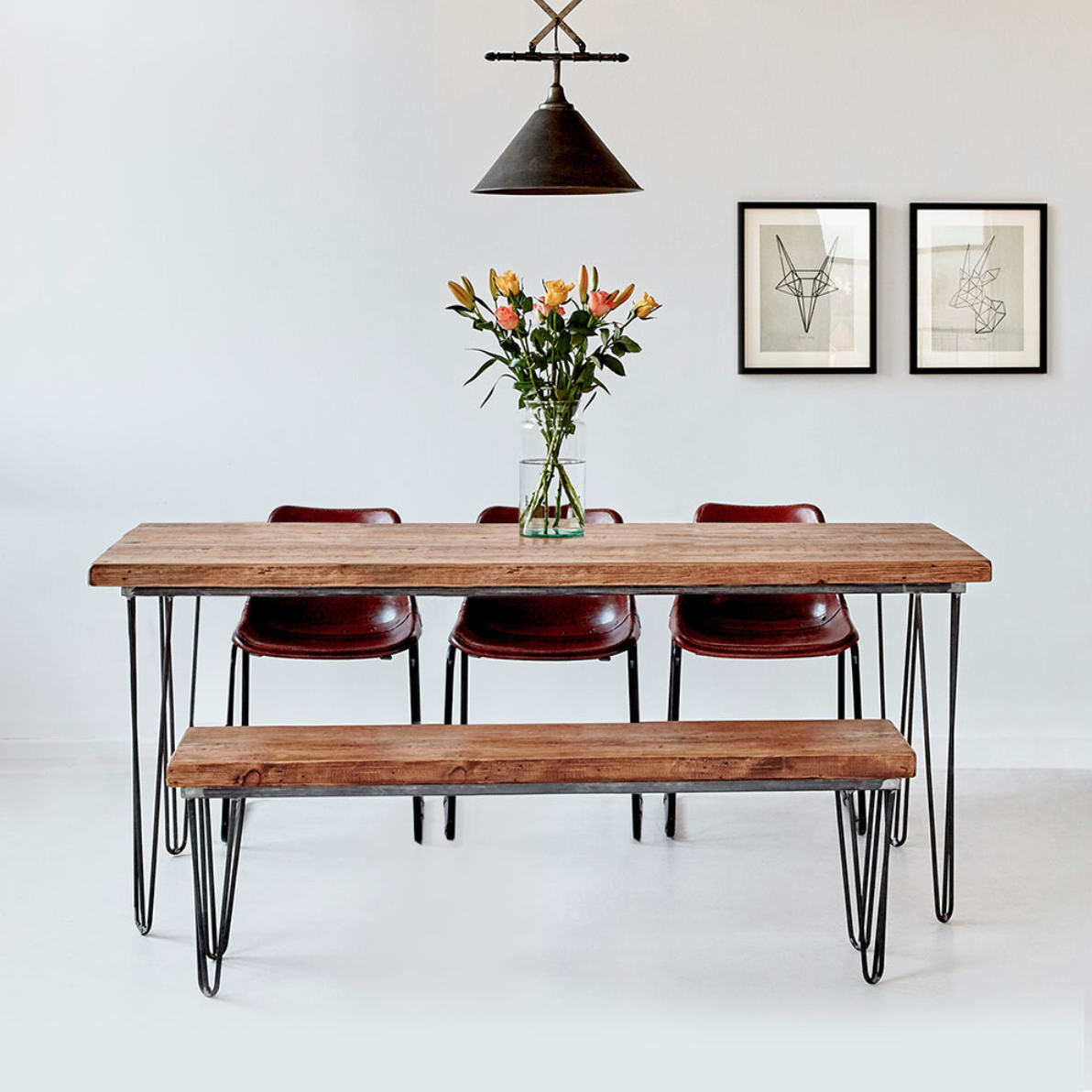 In this article we have chosen to primarily focus on Dining tables.
Table Designs For Small Dining Rooms
The beauty of finding a dining table to fit your space is that they come in a multitude of shapes and sizes. Some also come in dining sets so you know exactly what you're getting.
A rectangular dining table is probably the most popular choice – working, as it does, in a multitude of room set-ups and scenarios. If you are lucky enough to have a separate dining room, they will make the most of a rectangular shaped room, even if it's quite narrow.
Our tip is to measure the available floor space. Allow around 75cm around each side of the table for a chair and enough space for you to manoeuvre yourself into position. Armed with these measurements you'll know exactly the size table you're looking for. There are, of course, exceptions – if you're pushing your table to one side during periods of non-use, just ensure there's an area of space within pushing/pulling distance to accommodate the table and its chairs (felt feet would be a handy addition to each table foot if you have wooden floors).
Rectangular tables work really well in eat-in, galley-style kitchens. They are particularly sociable – not too wide, so you can indulge in conversation with those seated opposite. They also have the benefit of someone being able to sit at the 'head' of the table – a highlight that appeals to those with illusion of grandeur! Think about glass topped dining tables as an option to consider. Being see-through, they are canny illusionists in creating the feeling of space when, in reality, it's in limited supply.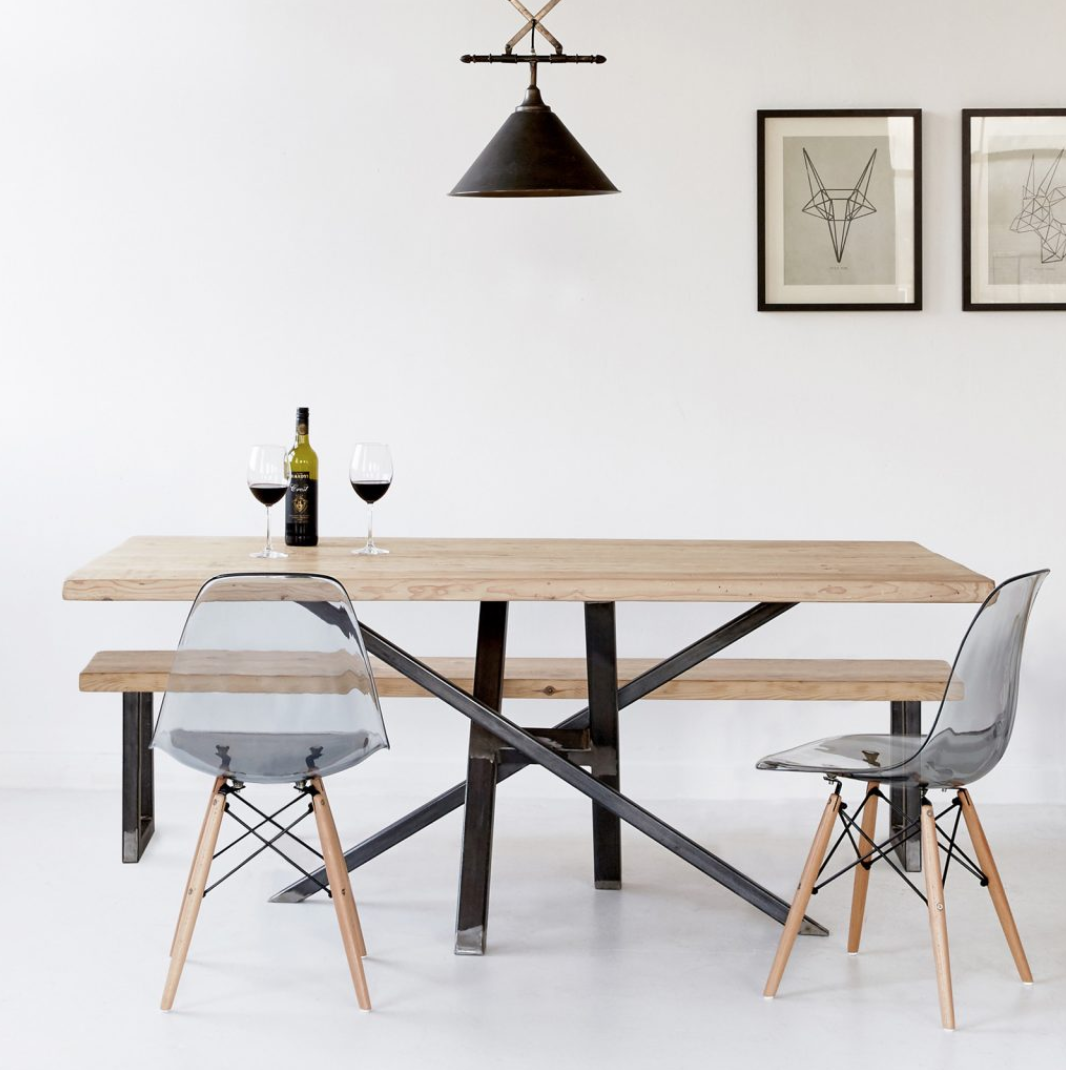 The leg design can work to your advantage. Be canny in your choice and you can free up floorspace to trick the eye into creating 'space'. Picking something without obstructive legs can allow you to seat more bums at the table without it feeling overcrowded. Look to corner-legged tables or trestle-legged designs which work particularly well with bench seating.
The Problem With Small Dining Rooms
The main reason that a dining table has never been your main focus might be because you don't have a designated room to dine in. As the trend for open plan living shows no signs of going away and the luxury of a separate dining room becomes a distant memory, other areas of your home might have to work harder to accommodate a small dining table. But you'll find these hiding in plain sight.
A bay window provides the perfect space for a dining table and is often overlooked as a dining space – it can really set off a small space and create real impact. The same goes for an alcove. You might have one to the side of a chimney breast in your living room and this could be just the nook you need.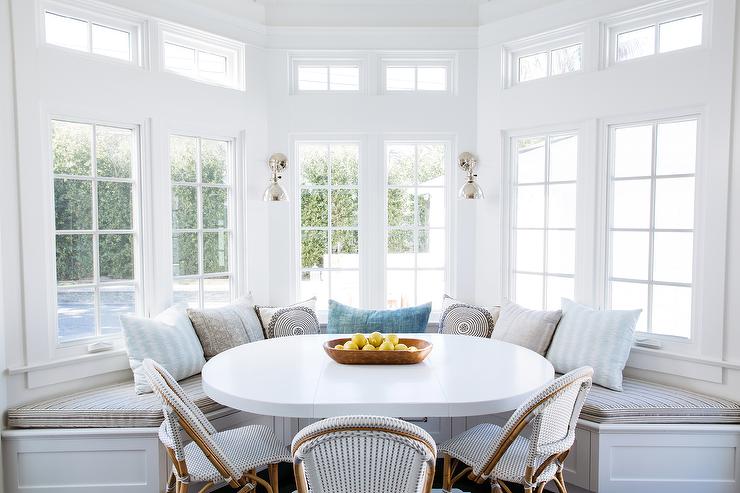 Some house layouts have
Some house layouts have a disused space under the stairs. A dining table works well here as you don't need full height standing room. As long as you can slide yourself in (and out without clunking you head!), you'll find this space, so often relegated to life as a makeshift cloakroom/dumping ground, works well for cosy dinners. The other area so obviously conducive to dining is the kitchen. A tiny corner could house a bistro table for two – folding chairs could even be hung on the back of a kitchen door when not in use.
The floor space below a kitchen window is an often available and much maligned 'free' space. Possibly unsuitable for kitchen cabinets and often dominated by an under-window radiator, a dining table won't obstruct the heat distribution too radically, even when it's slammed up against the wall to free up the floor between uses.