Whether you live by them or feel totally unaffected, from popular colours to key furniture choices, everything designed for our homes is influenced by both current and wider trends.
Whilst 'trends' change and evolve, they do so at different paces – some are popular for years rather than merely a season.
Consumers don't want 'here today, gone tomorrow' home decor trends when they're looking to update their interior design. Trends that are sustainable and have longevity are more important when it comes to homewares, than products that will only be popular for a limited period. Modern interior design trends are much more cohesive. They all have elements that can fit in with each other, giving them staying power.
Here are the key trends to look out for in the coming months:
Nordic Retreat
The serene Scandinavian (Scandi) style is updated with hints of patterns and textures. Homewares following this trend are used to create a calm and quiet space. Neutral colours, bleached woods, and simplistic styles is prevalent here. Sustainability and eco-friendly products are particularly popular with this home decor trend. A trend that Heyl Interiors is happy to see has really taken hold with modern interiors.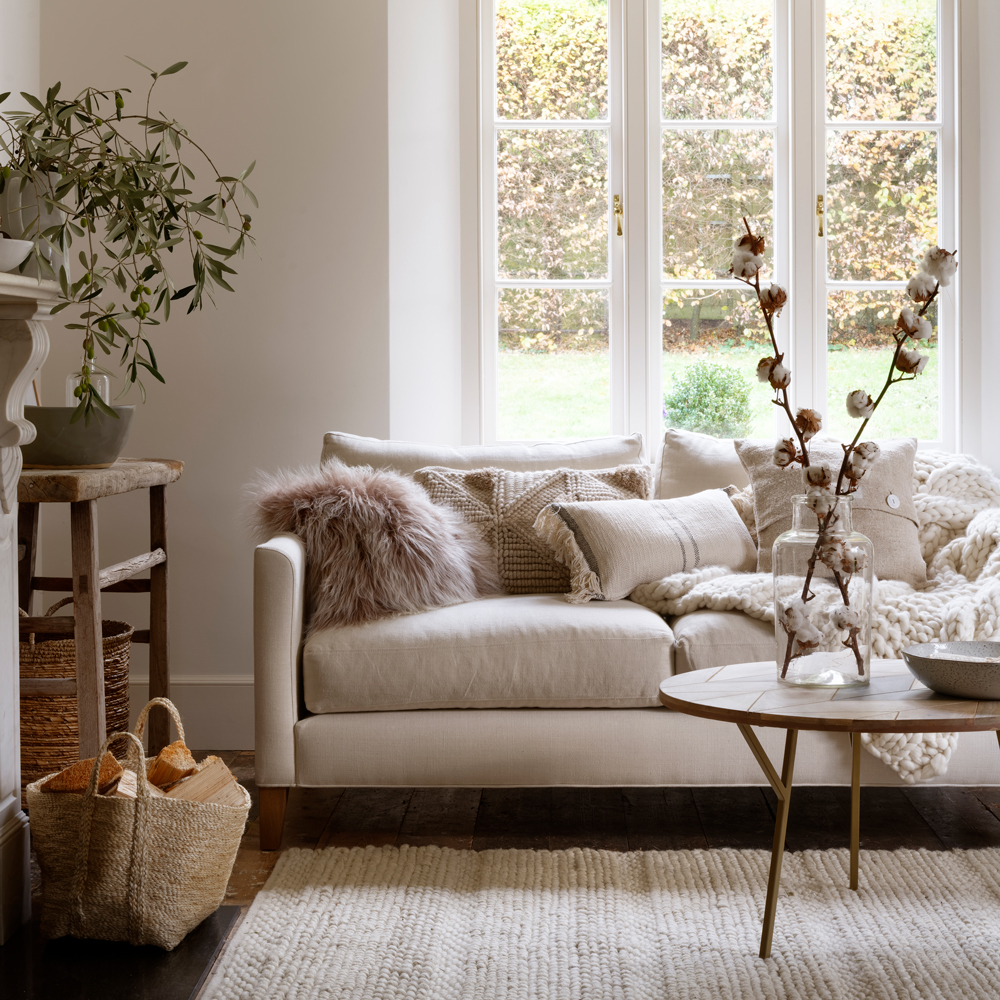 This paired-back look is perfect for creating an effortlessly stylish decor. Last season this look was filled with global-inspired pattern, for 2019 it's more about simple understated pattern.
Retro Fusion 
This nostalgic trend celebrates and reimagines mid-century home interiors and designs from a bygone era. The colour palettes of the 1950's and 70's like greens and mustards and 1920's art décor all fits in with this trend.
Pinterest revealed 'Geometric Paint' as a search term is up 225 per cent, year on year. This indicates an emerging trend for being creative with walls, giving them a retro vibe with new paint techniques.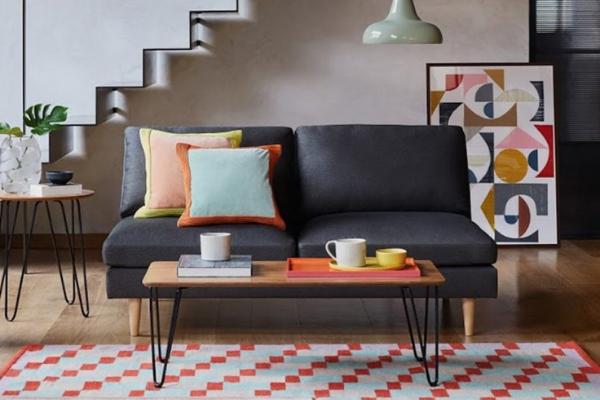 Mustard is a key colour in interiors this year.
Pinterest reveals search for this retro shade is up 45 per cent and growing.
In previous season we were seeing mustard paired with the Scandi neutrals, for this season this warming shade is matched perfectly with richer jewel tones.
Jewel Shades
For those who love getting creative with colour, rich hues take the spotlight with the Jewel Shades trend this season. Think deep, vibrant tones that add a touch of opulence to your living space – a rich and sophisticated palette of emerald green, sapphire blue, amethyst purple, and ruby red will create a head-turning look.
The luxe tones found within the Jewel Shades trend are truly designed to dazzle, creating a dramatic yet equally comforting mood in the home. Create a beautiful and eye-catching setting by being brave with colour, and experiment with different fabrics and finishes to get the look you desire.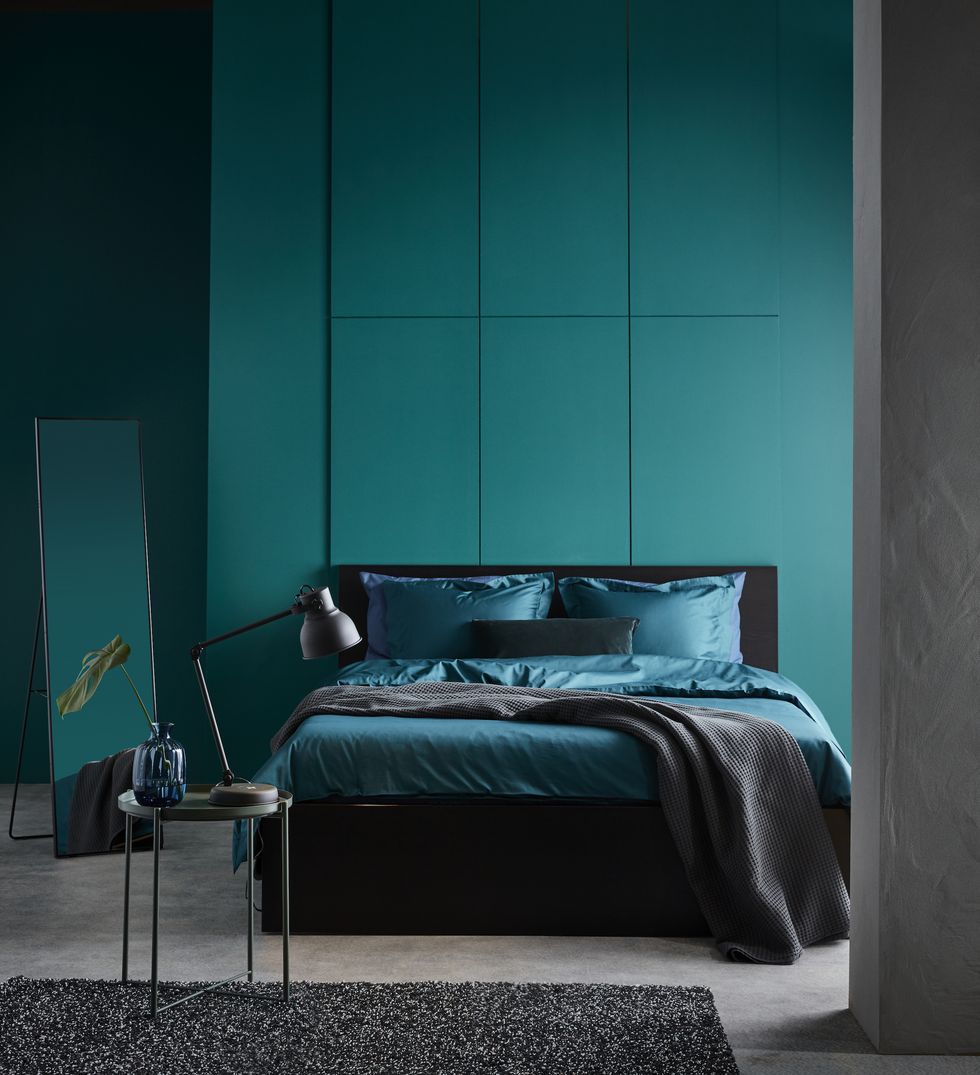 Textiles play a huge part in creating a feeling of decadence with this trend. Whether you decide on opulent velvet or sumptuous satin, the look and feel of your furnishings will enhance the overall richness of your space.
Soft Tropics
Tropical interior design trends have come back but with a much softer feel. The bright colours are switched up for lighter tones. Green is really popular here, but can be brought out with faux florals rather than printed designs. Tropical leaves and prints are up 401% in searches over the last year. This is a really fun home decor trend that echoes nature.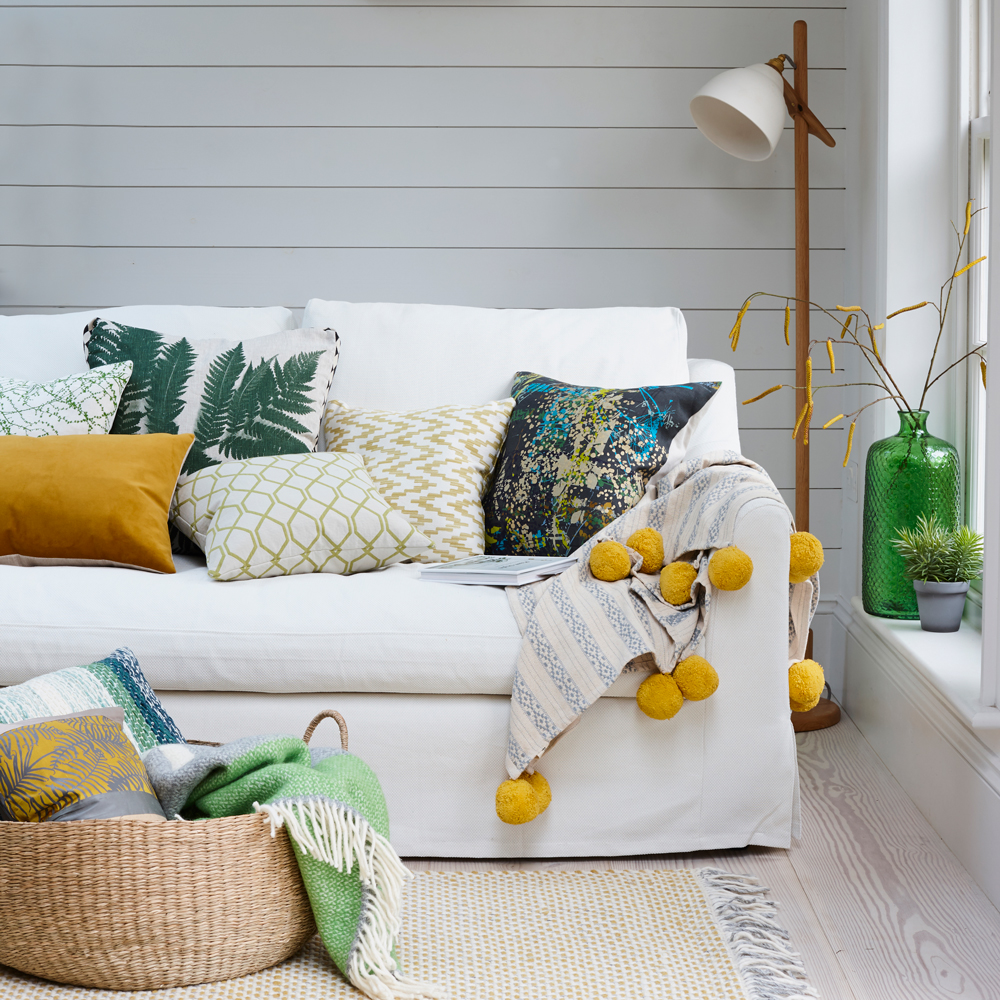 This uplifting trend is a joyous celebration of nature. The botanical prints are delivered in a softer format, diluted by a desaturated colour palette this season. There's a strong painterly element to a lot of the designs, making the look feel less imposing that out-and-out tropical palms.
Palm prints are the key motif throughout this look, whether real or as part of a fabric or wallpaper design.
Bold wallpapers, such as tropical leaves are going from strength to strength this season. Vibrant bold prints can breathe new life into rooms, big or small.
This summery botanical trend is testament that our love of nature continues to grow.
Global Essence
Consumers are looking for authentic handcrafted homeware products that take influence from around the globe. They want products with a layer of interest that tell a story. Rugs, wall hangings, wicker baskets and pottery are perfect for this look. Handmade imperfections are celebrated, and no two things are the same.
This trend, continuing from last season, is a diverse celebration of globally-inspired patterns – taking homes on a journey of global eclecticism. Rich tones and rugged textures symbolise the authentic, handcrafted style of this nomadic trend.
Look out for hand-dyed textiles in rich earthy pigments and hand-thrown pottery.
Urban Minimalist
Here, functionality and versatility takes centre stage as the next generation champions a more fluid and transient lifestyle.
With calm and well-organised homes in demand, combined with smaller living spaces, more of us are wanting practical yet stylish design solutions. A fusion of muted colours and tranquil neutrals paired with edgy accessories, Urban Minimalist is all about beautiful and sophisticated functionality that is both adaptable and relaxed.
The Urban Minimalist trend caters to your changing needs, whilst exuding a sense of individuality. Less is more with this look, so aim to create a space that is both understated, yet distinctive, by using fewer furnishings.
With more of us living in urban environments and adapting to small space living, storage has never been more key.