Summer is on the way out and Autumn is just around the corner. With the change in season, a lot of people will start thinking about how they can redecorate in one way or another. Where do you start first? What can you do to change the look and feel? How much do you want to spend? These are questions you might be asking yourself right now as you start thinking about ways to refresh your home.
One of the best places to start with any home redecoration project is the bedroom. Below we look at 5 top ways to upgrade your bedroom this Autumn.
How to Reinvent Your Bedroom this Autumn
1. New Pictures / Photos
After a while, your home can start to feel a bit dull if you don't freshen it up from time to time. The framed pictures you have positioned around your home can blend into the walls if you don't replace them occasionally. One of the easiest ways to reinvent your bedroom (and your home in general) is with new photos, pictures and canvases.
Your bedroom is the perfect starting point if you want to give it a quick refresh this autumn. Look online for some of your favourite photos from the past year or so and consider having them printed and framed to hang in your bedroom. A subtle change like this can leave your bedroom looking and feeling much different without too much effort at all.
2. Sliding Wardrobe Doors
If you have a decent budget to play with, you might want to consider replacing your sliding wardrobe doors.
Although this may seem like a big task, it's not as difficult as some people think. If you already have a sliding wardrobe, replacing the doors is a walk in the park. All you will need is the measurements and an idea of what you are trying to achieve with the design. The doors themselves are usually quite easy to replace, but you might want to call on someone who is DIY savvy to assist you if you aren't confident.
If you don't currently have a sliding wardrobe but are thinking about getting one, take the time to consider where your doors could go. You'll want to take measurements and see if the doors will fit before you set about purchasing doors online.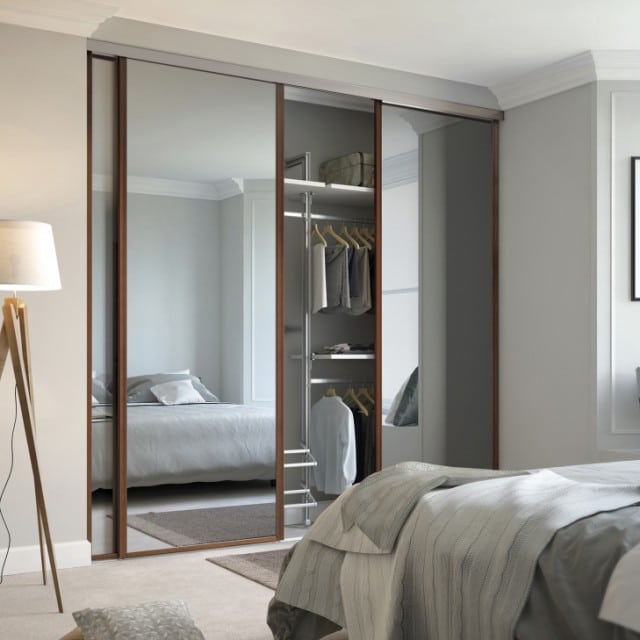 3. Shelving
Shelving is one of the most practical and convenient ways of storing items, though usually on display. Books, ornaments, clocks, photo frames, records and other collectables are often placed on shelving, which can get left for quite some time.
As your collection of books continues to grow, you might bear no thought to how your shelving looks. It can become overcrowded, dusty and un-loved as the years roll by, leaving you with a piece of furniture that, again, goes unnoticed for some time.
If you have shelving in your bedroom, it should be a focal point. From wall mounted shelving to freestanding shelving, a wide range of options are available to help you upgrade your shelving in your bedroom.
Consider reclaimed or industrial shelving to truly enhance the way you display items in your bedroom. The right shelving can act as a centerpiece in your bedroom, so it's worth taking the time to think about.
4. Computer Desk
If you haven't got the largest of homes, it might be that you had to set up your home office in your bedroom. If this is indeed the case, one of the best ways you can upgrade your bedroom this autumn is with a new desk.
There's every possibility that you will have had your desk for some time, especially if you're someone that works from home. It might have scratches, chips and mug stains on the surface and by now they probably go unnoticed.
Imagine replacing your desk with a new reclaimed wooden desk to sharpen up the area where you spend a lot of time working. A new desk can make a difference to any room, whether your home office is in your bedroom or not.
5. Lighting
Lamps and lightshades can make a real difference to any room, as can the bulbs themselves. Consider upgrading the lighting aspects of your bedroom to create a more calming/relaxing environment.
Paying attention to the setting of your bedroom is a clever way to enhance the room where we spend around a third of our time each day. Lamps and lightshades can help to tweak the way your bedroom looks without investing a heap of money to replace furniture.